Soccer 2016: Womens Soccer Australia v New Zealand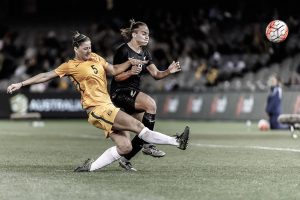 June 7, 2016: LAURA ALLEWAY (5) of Australia and JASMINE PEREIRA (8) of New Zealand fight for the ball during an international friendly match between the Australian Matildas and the New Zealand Football Ferns as part of the teams' preparation for the Rio Olympic Games at Etihad Stadium, Melbourne. Sydney Low/Cal Sport Media.
Posted on Sunday, June 12th, 2016 at 10:44 pm. Filed under: RSS 2.0 feed.