Apple doesn't make this easy. When your iCloud storage is full and you want to download 200GB of photos to free up space, one of the options, and arguably the most reliable, is to request Apple to compile the data via a request at privacy.apple.com. You can read about the issue with other methods in this recent Reddit post. Apple will email you when the compilation is ready. Here is a screenshot of a request to download almost 200GB of photos with a maximum size of 25GB per part.
Note that the 25GB size is a pretty loose limit with 5 of the parts exceeding the limit. More importantly, requesting concurrent downloads yields unreliable results. Make sure you monitor the expected size of each part as the download may silently terminate early like part 3 which failed at 3.9MB instead of 31GB. You'll also note that the download speed seems to be capped at around 7MB/s at the sending server's end. These downloads were on a Gigabit Internet connection.
But if you persevere, the downloads will all complete and you'll be able to download your files from iCloud.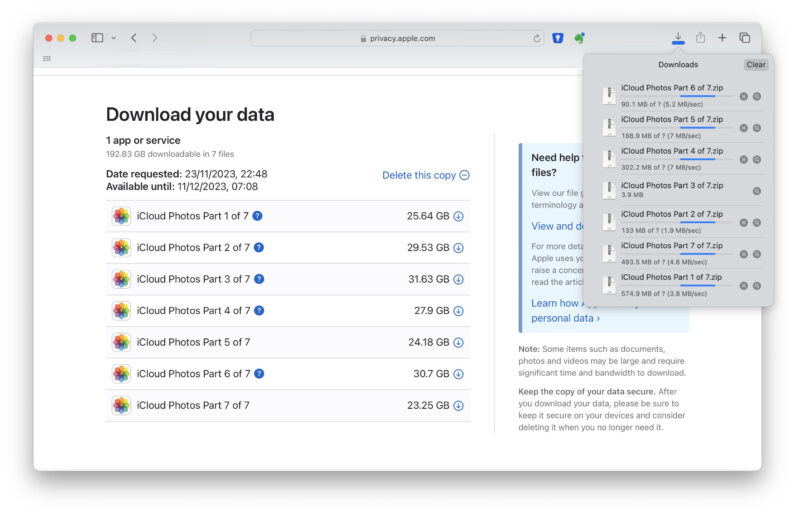 After all the parts have been downloaded, unzip the file and you'll find a Photos folder in each part. I suggest you create a new album in the Apple Photos app and import all the files into Photos. This is a convenient way to review your photos archive library. All the media types like Live Photos, Videos, Portraits seem to work with the import. As does People and Pets.